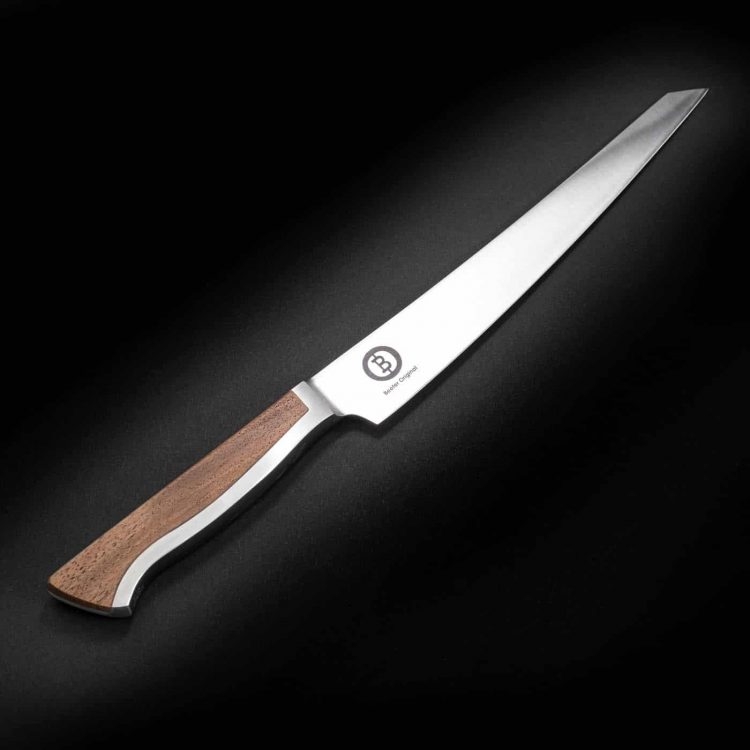 Beefer carving knife Caminada made of walnut wood
The Beefer carving knife from the 'Caminada' series by Solingen-based noble forge GÜDE has excellent cutting properties and will definitely find its place in the kitchen as a typical all-round knife. The hand-forged blade made of chrome-vanadium-molybdenum knife steel is made from one piece, ice-hardened rust-free and hand-sharpened. The handle of this knife from the Caminada series is made of very beautiful Graubünden walnut wood, which is combined with knife steel, which wonderfully complements the blade steel and gives the knife an obvious exclusivity.

This Beefer knife lies comfortably in the hand and can be used perfectly. High-quality knives like these should of course never be in the dishwasher or in the water for a long time! The Caminada knife series was created in collaboration with the Swiss celebrity chef Caminada.
Data and dimensions Beefer carving knife:

Blade length: 21 cm
Blade thickness: 1.9 mm
Blade height: 2.7 cm
Processing: forged
Blade hardness: 56 HRC
Blade steel: X50CrMoV15, ice-hardened
Cut: on both sides
Handle material: wood, walnut
Handle shape: symmetrical
Handle length: 11.5 cm
Total length: 34 cm
Weight: 192 g
not suitable for the dishwasher

Beefer and Güde.

The forged knives of the Solingen brand Güde combine traditional craftsmanship with modern design. Each knife is formed from a single piece of chrome-vanadium-molybdenum steel (except the "Damast" series). More than 50 processing steps are necessary before the knife is finished, most of which are carried out by hand. Güde knives impress with their excellent balance, long-lasting sharpness, high edge retention and excellent workmanship. These are all values ​​that we appreciate at Beefer and are therefore pleased about the elegant cooperation with Güde.